Sushi near Larchmont, NY

The art of sushi comes to life at these top sushi spots near Larchmont, NY. If you're a sushi fan, or perhaps you're new to the game, it's worth your time to check out these local restaurants committed to serving only the finest finished product.
Sushi is truly an art form, and the chefs at these restaurants are taking their art to new levels.
Ginban Asian Bistro
Located right in the heart of Mamaroneck, Ginban offers a lengthy menu of Thai, Chinese, and Japanese cuisine. The complex nature of sushi begins with the freshest possible seafood, fresh wasabi, and sushi rice that adds the perfect bite. These are the elements that capture the true essence of what sushi should be.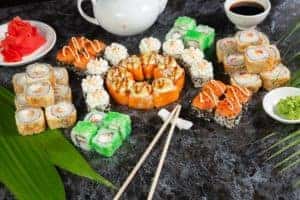 Visit the sushi bar and watch as the chefs create cutting-edge sushi, or experience some of the other outstanding Asian cuisine in the dining area.
As for that sushi, there are plenty of options on the menu. It's not uncommon to visit Ginban numerous times before you land on a favorite–after all, they're all special!
Sushi appetizers can kick your meal off the right way. Sashimi ceviche, yellowtail carpaccio, and spicy tuna gyoza start things off right. The lengthy list of house special rolls include the tango tuna roll, which has spicy crunch tuna, avocado, and scallion. It's served up with a creamy wasabi sauce, adding that perfect kick.
The beautiful Westchester roll comes with tuna, salmon, yellowtail, and cucumber, and is topped with tuna, salmon, and yellowtail. It's a unique creation to say the least. Be sure to check out Ginban and all of their sushi offerings.
Kumo Sushi & Lounge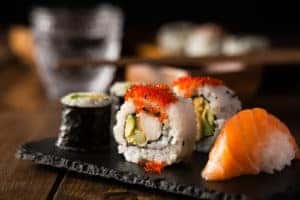 Lunch and dinner is served seven days a week at Kumo Sushi & Lounge, with a comfortable atmosphere and welcoming dining room. Highly trained chefs use the freshest ingredients to make each meal according to your tastes, with a focus on visual creativity when it comes to the preparation and the final presentation.
The best part about dining at Kumo? You can always choose sushi and sashimi a la carte, so you have the opportunity to test your taste buds. Start off with the salmon, then shift to the sea scallop, and finish up with the Alaskan king crab. Or, start things off with the tuna, advance to the eel, and then put the finishing touches on with the octopus. It's like being able to choose your own adventure, except at a sushi restaurant. How cool is that?
Kumo special rolls are plentiful, including the Godzilla roll, with spicy tuna, crunch and tobiko inside, topped with creamy avocado. The Manhattan roll makes shrimp tempura the leading star, with cucumber inside, topped with spicy tuna and eel sauce.
Hanging out for a while at the lounge? Grab a cocktail and relax. You'll find that a perfectly crafted cocktail goes well with fresh sushi.
Pick Out Your Stellar Larchmont Sushi
When you have a craving for outstanding sushi near Larchmont, NY, you now know where to go. Try something completely new, or rekindle the flame with a sushi favorite. You can't go wrong at these area sushi spots!