It's pretty safe to say that everyone needs a break sometimes. Life can be busy enough as it is. After a long, hard day at work, the last thing you want to do is slave away in the kitchen, no matter how much you like to cook. Those are the times when one thing comes to mind—getting pizza.
If you're in Westchester County, Nicky's Pizzeria may have just what you need. Serving delicious pizza and great Italian food, Nicky's is at the top of its game.
---
About Nicky's
When it comes to longevity, Nicky's Pizzeria is a real juggernaut. Not bad for a young couple who moved from Italy to New York in 1968 to pursue their dreams. Mario Manna and his wife Santina opened the pizzeria two years later, in 1970. With a shared love for food, they brought the skills and techniques from their native Calabria to their new Larchmont home. They have been thrilling customers ever since.
The fact that they are still going strong after more than 50 years is a testament that they must be doing something right.
---
A Family Affair
Family is at the heart of the Nicky's experience. After all, it was started by family, lovingly and diligently nurtured by family, and geared towards family. It was also the loyal support of extended family (the community, that is) that helped to ensure its success.
The friendly staff help to provide the warm, welcoming atmosphere that the pizzeria is known for. They value their customers and want to see them coming back again and again.
The Food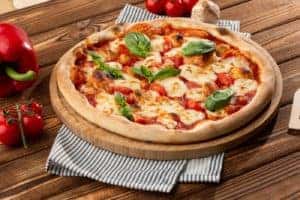 The food at Nicky's is as good as it's always been. When it comes to pizza, they know their stuff. There are more than 20 specialty pizzas on the menu. These include a selection of Grandma Pizzas, ranging from the Traditional Grandma (fresh mozzarella with San Marzano tomato) to eggplant with roasted peppers. There are also gourmet pizzas. If you don't want a whole pizza, you can choose from one of their slice options. It's no wonder they are one of the top pizza places not just in Westchester County, but in all of New York.
If you're not in the mood for pizza, they've got you covered. You can choose from a wide range of menu items, including delicious pasta, soups, entrees, calzones, salads, and delectable desserts. Traditional favorites such as spaghetti and meatballs, ravioli, and lasagna are all on the menu. It's a veritable Italian feast.
If you're hosting an event sometime in the not-too-distant future, you'll be happy to know that they offer catering services too.
---
Grab a Slice at Nicky's Pizzeria!
If you're feeling for pizza or just feeling for great Italian food, head over to Nicky's Pizzeria in Larchmont. They have just what you need!
You can also check them out on Facebook!
---