---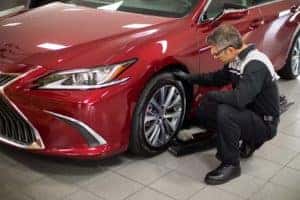 Your tires play an important role in Larchmont, New Rochelle, and Yonkers, NY. It's important that your Lexus RX has tires that are ready to take on the pavement. That's why our Lexus of Larchmont service professionals have taken the time to compile this important Lexus RX tire size information.
After reading, you'll know not only which tires fit your car, but what you can do to take care of them. Schedule a service appointment today.
What Tires Fit My Lexus RX?
Your Lexus RX is a sporty and fun-to-drive SUV, ready for any adventure. You want to make sure it carries tires that fit. When it comes time to get new tires, what should you be looking for as far as RX tire size?
Type A tires:
Type B tires:
You might be trying to figure out what these numbers mean. We're glad you asked. The first number in the sequences above is "235." That's the width of the tire, measured in millimeters from sidewall to sidewall. The "65R18" provides info about the aspect ratio, construction, and wheel diameter. The "R" designation means the tire features radial construction, while the "18" and "20" numbers above refer to the wheel diameter.
To ensure your tires provide the best possible performance, keep the tire pressure steady. Both type A and type B tires should be set to 33 pound-force per square inch (psi).