Lexus NX 300 Maintenance Schedule

The sporty and luxurious Lexus NX 300 is a pleasure to drive. To ensure it's a pleasure every time you're behind the wheel, caring for it is important. Regular maintenance will need to be performed to keep the car in great shape.
The Lexus of Larchmont service center professionals are here to handle that necessary maintenance. This Lexus NX 300 maintenance schedule is provided for you, so you know what to expect from your NX 300. If you're driving the roads of Larchmont, New Rochelle and Yonkers, consult this guide. Let's take a closer look at what maintenance is needed and when it should be taken care of. Schedule a service appointment today.
---
Every 5,000 Miles

This first official service of your Lexus NX 300 will come from our experienced and trained technicians.
A road test will take place to ensure the vehicle is working as it should, and everything feels the way it should feel.
Tire rotation is the next step. Rotating tires ensures proper wear and tear of the tires as the car continues to tack on the miles.
Fluid levels should also be checked and adjusted. This includes windshield washer fluid, antifreeze, and brake fluid.
We'll also look at the wiper blades and replace them if they're no longer functioning.
---
Every 10,000 Miles
It's time to replace the cabin air filter. If the air doesn't seem to be flowing properly when the A/C or heat is on, or an odor is coming from the vents, this likely means a new air filter will be needed.
An oil change will also be completed at this point. An oil change keeps the engine lubricated and allows it to fire up properly, so you can drive without concern.
Every 15,000 Miles
Tires will be rotated again, along with balancing the tires if necessary. We'll also inspect:
The body
Dust covers and ball joints
Hoses and brake lines
Engine coolant
If your smart key doesn't seem to respond the way it once did, the battery will be replaced.
---
Every 40,000 Miles

Some of the previously mentioned items will be taken care of once more, such as an oil change, cabin air filter replacement, wiper blade inspection, and tire rotation.
Spark plug maintenance is as important as oil changes, and they should be replaced at 40,000 miles. Spark plug changes are one way to make sure your Lexus NX 300 fires up properly and the engine starts at it should.
---
Why Do I Need an Oil Change?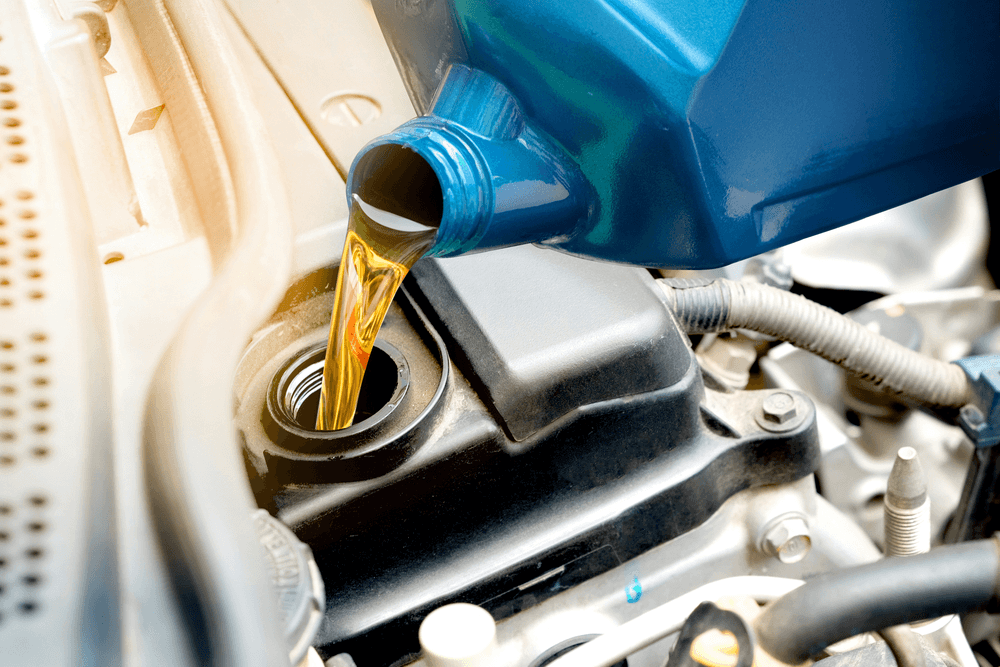 Changing the oil is an important maintenance service, best handled by the experienced Lexus service technicians at our dealership. Why do you need an oil change, though? What happens if you don't get an oil change?
Well, the engine parts need to be lubricated. A lack of lubrication can lead to engine damage because the parts have to work harder.
Clean oil also helps keep the engine running efficiently. If you don't change the oil, and don't add coolant, it can lead to the engine overheating.
It helps to check your Lexus NX 300 engine oil at home every month. It should be amber in color, and your dipstick should provide a reading that lets you know there's enough oil. If there isn't, or the oil has turned dark, let us know, and we'll provide an oil change.
Getting a Tire Rotation
Rotating the tires regularly allows our service technicians to check them over for any damage, add air if needed, and have them rebalanced if there has been any vibration while driving. We'll also check tread depth to ensure the tires can properly grip the road.
By routinely rotating the tires, wear and tear is spread evenly across all of the tires, maximizing tread life in the process. Fresh tires should be rotated by the 5,000-mile mark because fresh tire tread is actually more vulnerable to uneven wear.
---
Welcome to the Lexus Family with Complimentary Service
Your Lexus ownership experience begins with Lexus Complimentary Maintenance. This no-cost maintenance plan covers your first two scheduled maintenance visits.
Every new Lexus comes with the first and second maintenance visit complimentary. These are provided at 6 months/5,000 miles and 12 months/10,000 miles.
Buying a Lexus Certified vehicle from our dealership? To keep your L/Certified vehicle running smoothly, Lexus has a complimentary scheduled maintenance program for theses cars, too. The program starts when you purchase the L/Certified vehicle and includes the next four scheduled maintenance visits within two years or 20,000 miles of driving.

Schedule Your Lexus Service Visit Today
When it comes time for maintenance, the service light may turn on inside your vehicle in the dashboard area. That means it's time for a tire rotation, oil change, or other service. If you're not sure which service you need, give us a call and we'll pull up your service records and let you know.
Service can be scheduled on our website. It only takes a few minutes to use the online scheduling tool. We'll be in touch to confirm your appointment, and you'll be ready to bring your Lexus NX 300 in for maintenance.
---
Turn to the Maintenance Professionals
When you take your Lexus NX 300 on the roads of Larchmont, New Rochelle and Yonkers, it's critical to take care of maintenance that protects your engine, brakes, tires, and other vital parts of the vehicle. If you have any questions about your Lexus NX 300 maintenance schedule, please give us a call.
Bring your Lexus to the experienced maintenance team at Lexus of Larchmont. We're happy to assist with all service needs!