Lexus ES Tire Size

To ensure that your Lexus ES can safely tackle the streets of Larchmont, New Rochelle, and Yonkers, you need to have the right tires on your car. They can lead to the best possible performance and fuel economy, so it's key that you know all about tire size.
There are a few different kinds of tires that can fit your Lexus, so we're exploring your options in the space below. Continue reading to learn more about ES tire size!  Contact us for more information.
Finding the Right Tires
If you're ready to take on the roads in the region, you'll want to have the right tires on your Lexus ES.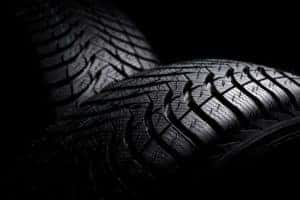 Type A tires include:
215/55R17 94V
T155/70D17 110M
Type B tires include:
235/45R18 94V
T155/70D17 110M
Type C tires include:
235/40R19 92V
T155/70D17 110M
Now, you might be wondering what some of those numbers mean. In the first category, "215" means the width of the tire measured in millimeters, going from sidewall to sidewall.
"55R17" includes the aspect ratio, construction, and wheel diameter. In this case, for instance, the "R" means the radial construction leads to layers running radially across the tire, while "17" means the wheel diameter is 17 inches.
Then, finally, we reach "94V" in our first example. That means it can handle a load of 1,477 pounds. "V" stands for the maximum speed the vehicle can travel, which is 149 mph. Of course, always follow all posted speed limits. This is simply the max speed the tire can handle.
When Should I Replace Tires?
When should you replace the tires on your Lexus ES 350? It's important to keep track of your tires, because they get you where you want to go. If the treadwear indicator has shown on a tire, it's time for a replacement. If you inspect the tire and see any damage, like a cut or a split, or any cracks that are bulging, that might indicate internal tire damage.
If a tire is over six years old, it should be checked by a knowledgeable Lexus technician, even if you don't drive often or there is no significant damage visible to the naked eye.
We Take Care of Your Tires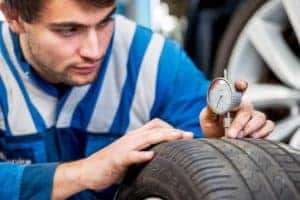 We'll take care of your Lexus ES 350 tires right here at our dealership. To ensure you're getting the most out of your tires and to extend their life, a tire rotation should be performed, as laid out in your owner's manual. Rotating the tires ensures they are able to experience different positioning on the wheels, so they wear more evenly.
Always be sure to keep tires inflated to the proper level, too. This level is outlined in your owner's manual, though we'll be happy to provide an inspection here at our location for you, too.
Have Tire Questions for Us? We Have Answers
If you want to learn more about Lexus ES tire size, get in touch with our team at Lexus of Larchmont. We'll ensure your ES has the right tires and is ready for the roads of Larchmont, New Rochelle, and Yonkers.