Lexus ES Oil Change

Keeping your vehicle up to date with the latest maintenance is important. At Lexus of Larchmont, we make sure that every car that leaves a service center appointment with us is ready for the roads near Larchmont and New Rochelle.
Schedule a Yonkers oil change with our Lexus service technicians, and your Lexus ES will get the care and attention it deserves. We help maintain your ES V6 engine so it can deliver the power you're looking for each and every day. Schedule a service appointment today to get started.
Changing the Oil in a Lexus ES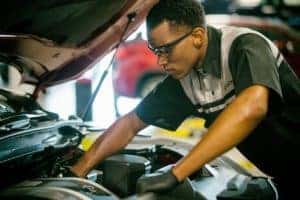 Proper maintenance and care keep your Lexus running smoothly. When it's time for maintenance, schedule it with our service team, and we'll handle the all-important oil change.
Not only will we replace the engine oil, but the oil filter will also be replaced.
That filter keeps the dirt and debris from the roadways from reaching the engine that becomes clogged over time as it's doing its job.
A fresh, clean filter will provide the best possible Lexus ES engine performance.
Fresh oil lubricates the engine parts, but oil can become worn down as time goes on if you do not change the oil.
Hearing a funny noise coming from the engine, or notice a burning smell inside the cabin? It could be that there's a high level of friction due to a lack of oil.
Lexus Maintenance Experience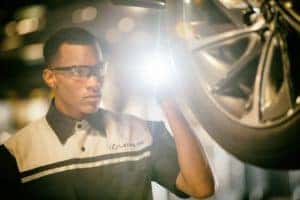 Bringing your vehicle in for service should be a simplified, streamlined process. Our service technicians want you to get the most out of your car, of course, but they also prioritize customer service and want you to have a smooth, welcoming experience. We strive to do that with complimentary first and second scheduled maintenance services.
The best way to get the most out of your car is to schedule service at the 6-month/5,000-mile mark and 12-month/10,000-mile mark. Every new Lexus ES comes with synthetic oil, so it will need to be changed every 10,000 miles. With traditional oil, your Lexus would need an oil change more frequently, around every 5,000 miles. The switch to refined and expertly engineered synthetic oil is one way Lexus has made your life a little bit easier service-wise.
Our Lexus Certified Technicians meet some of the highest service standards in the industry and undergo in-depth training and pass rigorous testing to become certified. When you visit our Lexus dealership, your car is in good hands.
Forward-Thinking Lexus Service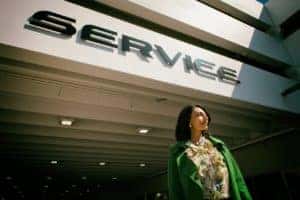 There's another benefit of bringing your Lexus to the dealership for service. All of your service information will be stored in the Lexus service history database, easily accessible no matter where you are. Perhaps you're far from home and realize an oil change is required. Our technicians can take a look at the database even if you're from out of town and know what service your car requires.
We use Genuine Lexus Parts for each service, precision-crafted for your car and designed to be a perfect fit for your vehicle. We stand behind these parts and guarantee they're the right fit for your ES.
Schedule Your Next Oil Change Today
Is it time for service at Lexus of Larchmont? Schedule an oil change with our Larchmont service technicians so we're able to get you back on the roads of New Rochelle as soon as possible. Get the most out of your Yonkers Lexus ES. We look forward to seeing you here at our dealership service center soon.