Lexus ES Reviews

---
---
With its bold design and meticulous attention to detail, the Lexus ES was created to surpass driver expectations in Larchmont, New Rochelle, and Yonkers. Every detail matters when it comes to a car, which is why we want you to know all about those intricate details and amenities.
Our Lexus of Larchmont Lexus ES reviews are designed to help you as you go through the buying or leasing process. Making a decision about the next car you're going to drive is an important one, and we're here to help you get it right. Contact us today to schedule your test drive.
---
Lexus ES Models
---
Lexus ES 350 Reviews
---
Lexus ES Reviews
---
Lexus ES Comparisons
---
Driving Experience
When you get behind the wheel of a car, you want to feel like you're in control of a vehicle that can do just about anything. The ES is a sedan that seeks to provide that kind of experience.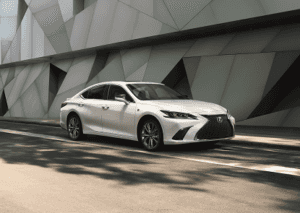 Drives are exhilarating thanks to the V6 engine, which is mated to an 8-speed automatic transmission. Whether you're accelerating off the starting line or need that extra burst of speed when out on the highway, you'll have it thanks to the Lexus ES.
Take further control of your drives thanks to the paddle shifters, which come on all ES models. Lightning-quick gear changes are right at your fingertips. There are many other ways to customize the driving experience in your ES. Drive modes can be selected to provide more efficient or responsive performance, while the seats can be set to your liking on every drive. Find out what your ES is capable of here at our Lexus dealership.
Sporty Drives Ahead
The Lexus ES F SPORT has a specially tuned Sport S+ mode, able to reduce body roll and maximize responsiveness. Sharp, tight turns are made easily in the F SPORT edition of the ES, with more powerful engine sounds at higher RPMs.
It's not just what's under the hood, though. The ES F SPORT also comes with unique front sport seats that hug you when going around those turns. The foam-injected construction and engineering feats are designed to contour to your shape, wrapping you in from hip to shoulder.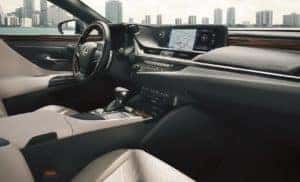 Before you get in, you'll see that the ES F SPORT is designed with a bold front fascia and grille, giving it a dynamic look that carries throughout the rest of the vehicle's exterior design.
A Welcoming Lexus Cabin Awaits
One you step inside the Lexus ES cabin, you'll be welcomed into a highly refined environment with a driver-centric design and a large center display that keeps you up to date on every drive. The 10-way power-adjustable seats come with heating and ventilation functionality, too. So, no matter where you're heading, you'll not only feel relaxed, but also comfortable.
Don't forget your phone at home, either. The ES is a perfect place to stay connected. Whether it's to your favorite music or your best friends, you'll be able to do so with the smartphone integration functionality in the ES.
Check Out Our Lexus Reviews
Our latest Lexus ES reviews can be found here on this page. You'll be able to learn all about why this car is one of the most popular models on the Lexus of Larchmont lot and be able to picture yourself behind the wheel.
Get ready for a new kind of Larchmont, New Rochelle, and Yonkers driving experience. Get ready for the Lexus ES.
---
---