Lexus ES 350 Dashboard Lights

When a light turns on in your Lexus ES 350 dashboard, you might be wondering what your car is trying to tell you. If you're out on the roads near Larchmont, New Rochelle, and Yonkers, you may be looking for a quick answer.
Our Lexus ES 350 dashboard lights guide is meant to provide you with the information you need to know about the important dashboard lights in your ES 350. Lexus of Larchmont is here to help. If you have any questions or need to schedule service, get in touch with us today.
Brake Light

There are a few purposes this light serves. It's possible that your emergency brake is activated. Always be sure the emergency brake is deactivated before driving.
It may also turn on if the brake system itself is malfunctioning. Call our service center as soon as possible for assistance.
Charging System Warning Light

When you see the battery symbol, it can indicate a potential malfunction in the charging system. You don't want to have your day stopped in its tracks with a dead battery. If this dashboard light comes on, our team will take a look at the issue, which may be related to the alternator, drive belt, or the battery itself.
Check Engine Light

Also known as the malfunction indicator lamp, this light can be trying to tell you of a few different things. Realistically, the check engine light can be one of many issues, such as a catalytic converter that needs replacement. It's also possible it might just be a loose gas cap.
It's a good idea to pay attention to this dashboard light, though. If the light is flashing, that can be the sign of serious concern, and your Lexus ES 350 should be taken to our repair shop as soon as possible. If the light remains steady, we'll inspect your car for an electronic automatic transmission control system issue.
Low Fuel Level Warning Light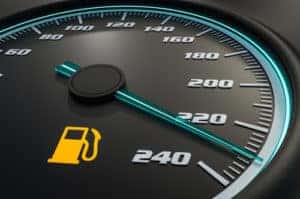 Thankfully, this light is just trying to be your friend. The low fuel level warning light will turn on when your car has about 2.6 gallons of gasoline left in it. Be sure to stop by your local station to fill up as soon as you can.
Tire Pressure Warning Light

When you see the dashboard light with an exclamation point surrounded by parentheses, that's the tire pressure warning light. This yellow light turns on when tire pressure may be low. Of course, this can happen when the seasons change and that first cold night sets in. However, you'll want to make sure you don't have a flat tire if the light turns on while driving.
Pull over and check the tire pressure with a gauge. If you add air and the light remains on, visit our service center.
Lexus ES 350: Schedule Service
Our service technicians are here to assist you if a warning light turns on in the dashboard area. Should service be required, we'll work efficiently to return your car to the roads near Larchmont, New Rochelle, and Yonkers.