How to Read Tire Size

Have you ever wondered what those letters and numbers mean on the sidewall of your tires? We're here to help answer that important question. Lexus of Larchmont wants you to be able to get the most out of your tires as you travel in Larchmont, New Rochelle, and Yonkers.
It's a good idea to know how to read tire size. Our Lexus maintenance experts have put together this guide to explain the process, and what you can do with this key information.
Looking for new tires? Visit our tire center.
Looking to compare Lexus models? Check out our comparisons page.
Looking for a new Lexus model? Check out our new inventory.
Where to Find Tire Size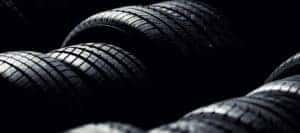 You'll be able to find tire size in a few different places. The owner's manual is a great place to start, but if you don't have that around, check the driver's side door jamb, glove box door, or gas tank hatch. Yes, you can look at the tire itself, too.
When installing tires, it's critical to find the ones that are the right fit, to ensure the best performance and feel on the road. Here's a breakdown of what you can look for if you're getting information right from the tire:
Lettering. Each tire features a long sequence of letters, and numbers, too. If you see the letter "P", it means the tire is for a traditional passenger vehicle like a sedan, van, or SUV. "LT" means "light truck", a vehicle designed to handle heavier loads. If you get a flat and need to use your spare, you'll see the letter "T" for temporary.
Tire width. This is the first set of numbers you'll see on the tire. For example, with a P215/65 R15 tire, the tire width is 215 millimeters. If new tires are needed for your car, we'll make sure the right fit is found.
Speed rating. This is the last item you'll find on the tire. If you see the letter "S", that means the tire is rated for up to 112 MPH. If it says "T", that means it's rated for up to 118 MPH. Usually, the higher the speed rating, the better the car will handle.
Why Buy New Tires at Our Lexus Dealer?
There are many reasons to buy your next set of tires at our Lexus dealership.
When buying from our Lexus dealer, you'll ensure:
The right fit for your specific Lexus model
Experienced installation from factory-trained technicians
Major brands to choose from
Lexus Tire Center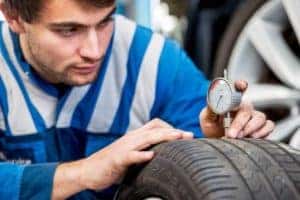 When you visit our Lexus tire center, we'll install new tires if the treads on the ones you currently own have worn down. It's important to never let tread depth get below 2/32-inch, because you may notice decreased stopping power and be unable to bring the car to a safe stop in rainy, wet conditions.
Be sure to keep tires properly filled at all times. If your tire pressure light has come on, check the tire pressure in all four tires. Should you fill the tires and still see the light, get in touch with our service center as soon as possible.
Visit the Lexus of Larchmont Service Center Today
Whether you're heading to your favorite restaurant or work, you need to be able to trust your car's tires. When it comes to tires, the service technicians at Lexus of Larchmont are here to assist you. We can even help you learn how to check tire tread depth and more at home! We look forward to serving Larchmont, New Rochelle, and Yonkers drivers here at our location.
Need new tires, or have a tire question? Turn to the experts.